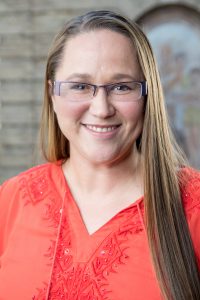 June 20, 2018
Dear Morey Families:
My name is Hillary Niebauer and I am Morey's new Interim Principal. I am absolutely honored to serve as Morey's Interim Principal this coming school year. I have been at Morey for the last three years as the Assistant Principal and Principal Resident and I am thrilled to lead the amazing staff and students at Morey next year.
I have spent all 16 years of my career in middle schools. I was a 7th grade Language Arts teacher for 10 years and then an instructional coach, student advisor and school leader the last six years. I feel my experience has given me valuable insight into middle school kids and effective school leadership.
My husband, Joel, and I have been married 14 years and have two daughters: Abigail (12) and Rayen (10). Both play competitive soccer, spend hours vlogging and love arts & crafts. When I get that rare moment of free time, I enjoy reading, watching sports (huge Broncos fan!), and heading up to my dad's family cabin in Red Feather Lakes to fish.
I am excited to welcome your student to school this August! Registration is currently set for Thursday, August 9th and Friday, August 10th. You will receive registration packets in the mail by the first week of August. Please remember to bring your Student Verification Form and your fees with you to registration (cash or check only); payment plans will be available if needed.
Registration:
Thursday, August 9th: 3 pm to 7 pm in East Gym
Friday, August 10th: 8 am to 12 pm in East Gym
Late Registration is Friday, August 17th and takes place in the main office only.
Calendar of Events:
August 9 & 10 Registration Events
August 16, 5:00pm Morey Back-to-School Community BBQ
August 20 First full day for 6th graders ONLY
August 21 First full day for all students
September 3 Labor Day – No School
September 12 Back-to-School Night
Please feel free to contact me regarding additional questions or concerns. I am excited to partner with you in support your child's education during the 2018-19 school year. Go Mustangs!
Hillary Niebauer
Interim Principal
Morey Middle School
720-424-0713
hillary_niebauer@dpsk12.org