Special Permission Sheets: If you would like to give your 8th grade special permission to not return back to Morey on both days of the Elitch Garden's Field Trip and on the morning of Continuation, sign and return both forms and return them back to the main office by Friday, May 22.
Tuesday, June 2nd: Elitch Gardens Field Trip Permission
June 3rd & June 4th: 8th Grade Continuation Permission
Elitches Garden Ticket Price for Eligible 8th Graders: $25. All tickets must be purchased through the Morey Treasurer, Ms. Adrianna Pallares.
Appropriate Dress for Continuation:
Students must dress appropriately for continuation. This means "dress clothes" that meet our school dress code (no spaghetti strap shirts or dresses, only knee length skirts or dresses; no sagging pants; no hats, etc.) Suits are not required; however, we would appreciate students not wearing jeans. Please make smart choices. We want every 8th grader to participate if they meet all academic and attendance requirements, as well.
Questions about your 8th grader:
Participation Requirements: Ms. Katie Gianatasio, katie_gianatasio@dpsk12.org
Elitch Garden Tickets: Mrs. Adrianna Pallares, adrianna_pallares@dpsk12.org
Permission Slips: Mrs. Jeannette Ekstrand, jeannette_ekstrand@dpsk12.org
Guidelines for being able to participate in both 8th grade events are outlined in the following document. See details below or click here to see a pdf version of the letter from Principal Noah Tonk. Any questions or concerns, please contact Jeannette Ekstrand, 720.424.0737.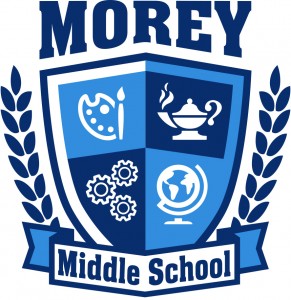 Morey's 8th Grade Elitches and Continuation 2015
Dear Class of 2015,
As you know, the 8th grade trip to Elitches and Continuation is rapidly approaching. Please remember that in order to participate in both events, you must maintain a 95% attendance rate, which is a district expectation. Strong attendance is necessary in order to have a full and enriched classroom experience. For those of you that have an attendance rate below the expectation, you will be meeting with a staff member frequently over the next few weeks to ensure that you have made up time in order to become eligible for both Elitches and Continuation. We are very hopeful that the make-up opportunities will allow all students to participate and celebrate in both of these events.
In order to make up time, Morey will be providing the following opportunities through the course of the next several weeks:
After School Tutoring in the Library on Mondays and Thursdays from 3:30-4:30pm. You must sign in and be an active and respectful participant in the tutoring session.
Saturday school from 8-12 (4/18, 4/25, 5/2, 5/9, 5/16). You must sign in and be an active and respectful participant during Saturday school. You can bring homework and/or make-up assignment described in #3.
Obtain an eligibility contract from Ms. Gianatasio and working with your classroom teachers to create assignments with specific number of make-up hours the assignment is worth. Please note that the assignment must be completed with a proficiency rate of 3 or 4. Upon completion of the assignment at a 3 or 4 proficiency, the teacher must sign off on the eligibility form and you must return it to Ms. Gianatasio.
9 days are allotted as absences to hit the 95% threshold (excused or unexcused)
3 tardies equal one day of absence
2 hours of made up time = 1 day of absence
As we enter into the final stretch of the 2014-2015 school year, we look forward to having all of you participate and enjoy Elitches and Continuation.
Best Wishes,
Principal Tonk