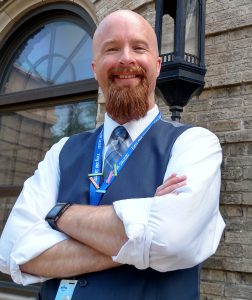 Morey Community,
Four years ago, I was privileged to be asked to lead this community of learners. Before I took over, Morey was languishing near the bottom of the performance pile in DPS, and was on the brink of closure. I built a new leadership team, including hiring Assistant Principal Hillary Niebauer in March of 2015, replaced most of the staff, and set about to build systems and structures that would support a positive and academically challenging school culture, including a mindfulness program and strong therapeutic social-emotional supports. Throughout this work, Ms. Niebauer was instrumental in our schoolwide cultural and academic shift, serving as the "yin" to my "yang." Morey came back from the brink, and has now been rated "Green" under the DPS School Performance Framework for the last two years.
I directed our staff to engage in school-wide empathy work, and together we worked with parents to determine how to build a data-driven system of acceleration, where students were met with academic challenges that were rooted in their demonstrated needs. We even engaged students in a two-day design challenge that brought out their best ideas for innovative school transformation. We worked to disengage from a larger school system of culture of adherence to a singular scope and sequence, exploring ways to personalize student learning experiences through voice and choice and allowing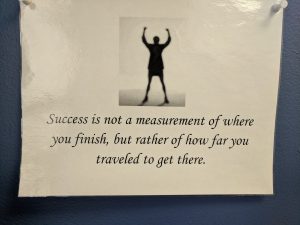 students to drive their own learning through their passions and personal lenses as codified in their collaboratively developed Individual Learning Plans. Together, Ms. Niebauer and I led a design team that achieved Innovation Status as a means to bring this vision to life. This work has been some of the proudest work I have engaged in during my professional life.
Four years ago, I left my family in Indiana to join this school community, and we were separated for nearly three months before they sold the house and could join me. In the last four years, I have commuted from our home in Aurora for a drive that typically takes 40-45 minutes in the morning and up to 75 minutes on the way home. There have been many evenings away from home for recruitment events, school functions, and Morey family opportunities, and through it all, my family has been very patient. For four years, I gave my heart and soul to this community, but now it is time to embrace an opportunity to spend more time at home.
This week, I accepted the position of Principal at Challenge School in Cherry Creek, a K-8 magnet for gifted and advanced learners, a position for which my time at Morey paved the way. This opportunity gives me a chance to lead elementary learners in addition to middle school, a new professional experience for me. It is also a commute that takes all of 17 minutes in morning or evening. This will allow me to spend more time at home, to spend more time at work without sacrificing as much at home as I have previously, and to involve my family more in my school community.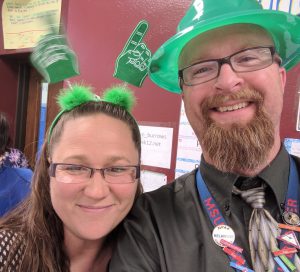 Leaving Morey is bittersweet, but I am pleased to announce that Hillary Niebauer has been named Interim Principal until a more thorough search can be engaged in next year, a search for which she will be a candidate. Ms. Niebauer has co-led our drive for innovative practices, is a champion of social-emotional supports for middle school students, is deeply committed to the development of professional relationships in our community, and understands the deeper needs of both highly gifted and talented learners and of those who come from a trauma-based environment. Lastly, she is a resident of the Park Hill neighborhood and is proud to serve what is essentially her home community. She has been a powerful partner in the last three years at Morey, and it will be hard to find a teammate to match her systems thinking, her quick wit, and her passion for children. Four years ago, I pledged that when I finally left Morey, it would be a better place than it was before, and not only am I proud to have achieved that with an amazing team, but I am relieved to leave it in the capable hands of Interim Principal Hillary Niebauer, who will send communication home soon.
I am sad to have to say goodbye after the close of the school year without much of a chance to say goodbye in person, but I will be watching Morey continue to grow from afar. Thank you for all that you have taught me, and I wish you well.
Please find links to official Denver Public Schools communications regarding this leadership change below.
Morey Interim Principal Announcement- FINAL ENG 6 12 18
16406_1_Morey Interim Princi_SP
Noah Tonk
Proud Principal, 2014-18
Morey Middle School