Dear Morey Families,
I wanted to provide you with some important personnel updates.
Unfortunately, our current Assistant Principal, Carla Cinquegrana will be gone for the remainder of the school year on medical leave. I am grateful that Hillary Niebauer will be joining us starting this week through the end of the school year to help in Carla's absence. Hillary will begin immediately as our new Assistant Principal at Morey.
I am personally very appreciative of Instructional Superintendent Dori Claunch's support in making this transition possible.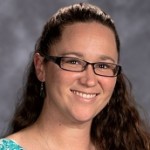 Hillary brings a wealth of experience and passion for working with middle school students. After spending many years at Hill Middle School as Assistant Principal, Student Advisor, Director of Instruction, and Language Arts teacher, Hillary will be sharing her expertise with us as we continue to strengthen various aspects of our school.
Please join me in welcoming Hillary to our Morey community. We are fortunate to have such an dedicated and strong Assistant Principal joining our team.
We will be announcing additional opportunities for our Morey families to meet Hillary.
Thanks again for all your continued hard work.
Principal Noah Tonk
Please see attached letter from our new Assistant Principal, Ms. Hillary Niebauer click here