MOREY WINS 4th in DESTINATION IMAGINATION GLOBAL FINALS 2015!!!!!!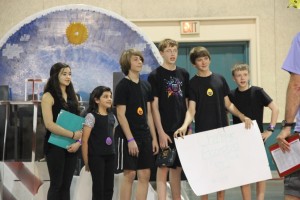 Morey's Destination Imagination team, Challenge Accepted, won 4th Place in the Technical Challenge: Creature Feature, in Global Finals 2015! CONGRATULATIONS to team members: Michael , John , Naina , Austin, Ceylin, and Ryan.
Challenge Accepted admirably represented Morey, Denver Public Schools, Colorado, and the United States at GLOBAL FINALS, May 18-24, along with 1500 teams from around the world. Results and pictures can be found at www.globalfinals.org.
New Morey teams will form in September. For information contact Morey parent, Michelle Miller, at mdweston@aol.com, and check out www.idodi.org .