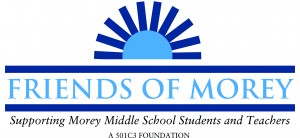 Friends of Morey is a 501(c)(3) organization dedicated to improving the educational experience of all students at Morey Middle School, a Denver Public School. Our funding priorities include the following:
1) Community Liaison: Friends of Morey has funded the community liaison position at Morey, in whole or in part, for the past several years. The school's community liaison is an integral part of the Morey community, providing a critical link between parents and our school's administration, faculty and staff.
2) Intersessions: Intersessions provide exciting ways for Morey students to take their learning out into the community. Our teachers come up with creative ways for students to learn more about the world around them by taking students "off campus" – they may travel far away to Washington, DC or right down the street to our own state capitol. Intersessions happen twice yearly and are partially funded through student fees. To give teachers the opportunity to be more creative, Friends of Morey covers any funding gap between student fees and program costs.
3) Teacher mini-grants: This program was introduced in the 2013-14 school year. Friends of Morey accepts mini-grant applications from our dedicated teachers and staff for anything they might need to enhance learning at Morey. Last year our mini-grant funding included a Lighthouse Writers Workshop for our language arts department as well as laptops for our Math Fellows.
We are proud to introduce our 2014 – 2015 Board Members:
Stephen Crockett: is the parent of a Morey 7th grader and has another Morey alumnus. Stephen is in his first year as Friends of Morey board president.
Larry George: is the parent of 2 seventh graders. Larry holds the position of Treasurer for Friends of Morey. This is Larry's second year on the Board.
Lynn Hartfield: is the parent of a 7th grader, and is in her second year on the Friends of Morey Board. She is in charge of the mini-grant program, which reviews proposals for small grants to teachers for special programs.
Brooke Trexler: is the parent of a 6th grader. She also sits on Morey's CSC and assists in developing a solid parent volunteer program at Morey.
Samantha Tannenholtz: is a parent of a 6th graders. She has a lot of experience with important volunteer roles is a go-getter!
Jeannette Ekstrand: is Morey's Community Liaison. Her role is critical to the communication between Morey Middle School and the Morey community.
Two Ways to make a direct donation to Morey Middle School:
Click on the Pay Pal Donate button below to make your contribution to Friends of Morey today!
Send a check made out to Friends of Morey to: Morey Middle School, 840 E. 14th Avenue. Denver, CO 80218
We thank you!