Hello Morey Families,
We have been busy these last few weeks getting our Remote Learning Plan up and running for the students, starting Tuesday, April 7th.  As you all well know, these are unprecedented times and we are doing our best to provide quality learning experiences for our Morey kiddos. Please be patient and kind with teachers as we move into this new learning environment.
The overall learning plan:
Students will engage in daily learning through the Summit Learning Platform. Students have used Summit all year and should be very familiar with the platform.
Each class should have a 40-60 minute lesson, every day. Each day's lesson will have an introduction/warm-up, mini lesson, an opportunity to practice, and some kind of product that needs to be turned in each day in Summit.  Each day's lesson is a Checkpoint in Summit and labeled with the date.  For example, students should go to Summit and go into their Language Arts class. Click on the unit and find the checkpoint for Tuesday, April 7th. In it there will be a link to a lesson that the teacher has submitted as a video or Google Slides. The student goes through the lesson and clicks on any other links to worksheets or exit tickets. When students are done working, they upload their product for that day's checkpoint in Summit.
All Power Focus Areas (these are mini quizzes in Summit that kids were required to take and pass) are all going to be exempted and moved to "Challenge". Kids will be able to access them and study for them on their own, but with the remote learning environment will no longer be a part of the child's grade.
Office Hours: Every Morey teacher will offer office hours for students for 2 hours, each school day. The teacher will share the link to their office hours to students in their Summit daily checkpoints. Office hours are not mandatory for students, but rather a resource for students they get stuck, or develop questions at any time during their day's lesson. Students should write down questions or places where they got stuck and go into the office hours during the scheduled times below.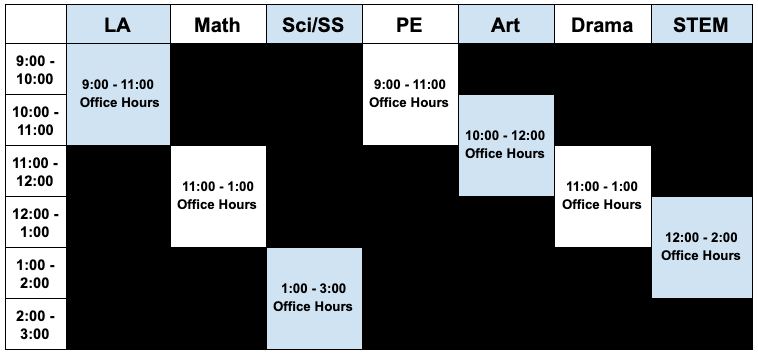 Teacher Daily Office Hours:
*Special Educators will have their own office hours and are reaching out to students and families to work out their own schedules.
Attendance and Support:
Teachers will take attendance each day based on student's work produced that day. If a student does not submit work in Summit, the teachers will mark them absent in our own attendance document and a member from our Support Staff team will call families the following day to see what support we can give to help get students learning.
Resources:
Technology: We passed out 85 Chromebooks to Morey families yesterday. If you are still in need of a computer, please contact the DPS Technology Service Desk. I heard that students may still be able to pick up computers at the DPS Food Distribution sites after Spring Break. If you did pick up a computer, please make sure you read this DPS Remote Learning Device Agreement.
I'm sure many questions and things we didn't even anticipate happening will come up over the next few weeks. We are all in this together and will do our best navigating this new system. Have a safe and healthy Spring Break, Mustangs
In Partnership,
Hillary Niebauer
Principal
Morey Middle School