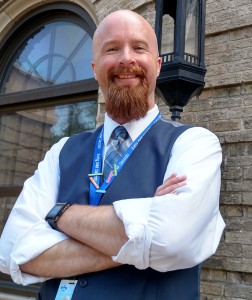 Noah Tonk, Principal
720.424.0724
Mr. Tonk spent nearly ten years teaching Language Arts in grades 7-12, teaching everything from remedial 7th grade to 12th grade Advanced Placement coursework. He spent a year and a half at the central office level before spending four years as an assistant principal. This is his second year at Morey. He has three children, two cats, one dog, and an amazing wife also employed by DPS.
Mr. Tonk was inspired to pursue a career in education after a teacher made a connection with him during a time of crisis in his early teenage years. He feels a deep debt to this teacher, and feels he must repay this debt by reaching out to students who need it. Additionally, after seeing how schools were unable to meet the needs of his own gifted children, he is committed to doing a better job for Morey's own GT and HGT students.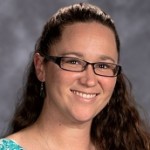 Hillary Niebauer, Assistant Principal
720.424.0713
Greetings! My name is Hillary Niebauer and I am the new assistant principal at Morey Middle School. I am excited to join the leadership team and work with the amazing staff and students at Morey. One of our goals at Morey is to ensure all students are highly prepared for academic, social, and personal success through rich educational experiences and I am confident I can help make that vision a reality for your child.
I have spent my entire 13-year career working in middle schools and feel so fortunate to continue my journey at Morey. I spent the last 10 years at Hill Campus of Arts & Sciences as a literacy teacher, instructional coach, student advisor and eventually an assistant principal. I feel my past middle school experience has given me valuable insight into middle school kids and effective school leadership.
My husband, Joel, and I have been married 11 years and have two amazing little girls: Abigail, 9, and Rayen, 7. They are about to finish 4th grade and 1st grade, respectively. When I get that rare moment of free time, I enjoy reading, watching movies and taking every opportunity to head up to the mountains and fish at my family's cabin.
Darcy Barr, Dean of Culture
720.424.0730