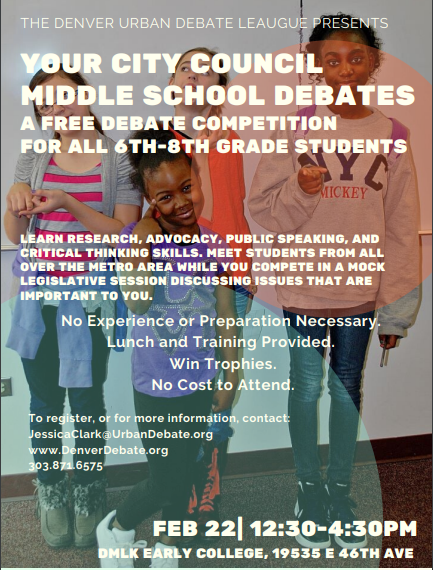 The Denver Urban Debate League (DUDL) would like to invite your middle school students to participate in a free debate competition on February 22, 2020 at Dr. Martin Luther King Jr. Early College.
They believe participation in debate and speech provide these students the opportunity to increase their skills in advocacy, analytical and problem solving, and social skills critical for completing high school and finding success in life such that we extend this opportunity to you. DUDL is a non-profit organization housed at the University of Denver Sturm College of Law and have offered speech and debate programs for 12 years partnering with metro area schools districts including Aurora, Denver, Mapleton, and Westminster.
The flyer can be found in the HGT Resource Folder. There is no charge for this participation and the event includes lunch, instruction, and awards. Students do not need prior preparation or experience.