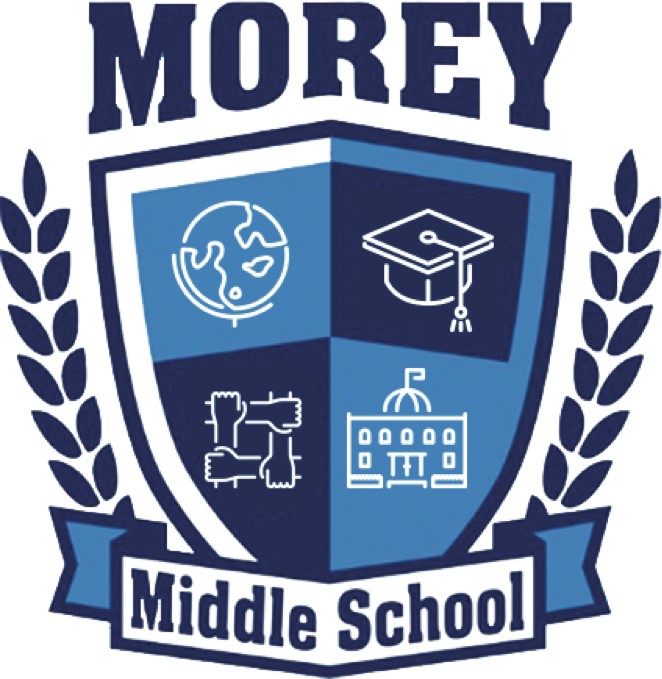 Para esta carta en espanol usa esta enlace.
July 24, 2020
Dear Morey Families:
As we begin to plan for the new school year, we are getting up-to-the-minute updates from Denver Public Schools officials. Here is what we know so far, including some very important changes, about the new school year:
Opting Into 100% Virtual or In-Person Learning:
During registration this year, families will opt into the 100% virtual program or the hybrid/in-person program. 
100% Virtual Learning: The current thinking is that schools will manage BOTH in-person learning and virtual learning as long as there's enough teachers. If we don't have enough teachers, there's a small chance virtual learning may be done with another teacher in the region. (More information on structure of virtual classroom below)
Students will stay in virtual learning for at least the first semester. Any student opting into virtual learning will remain on Morey's roster and will keep their seat for the following year. 
In-Person: Students will begin in-person learning with remote instruction from Morey teachers for at least two weeks. The earliest students would return to the building for in-person learning is Tuesday, September 8th.  (Structure of in-person learning below)
Hybrid Learning: It is likely that when in-person learning is deemed safe, students will first transition into the building with a hybrid learning schedule. Students will go 2 days in the building, engage in independent learning the other 2 days. The fifth day is reserved for intervention in-person instruction for students with the highest needs. 
Moving Between Virtual and In-Person: A student will stay with their first choice of 100% virtual or hybrid/in-person until at least the end of December. If a student requests to move from virtual to in-person, parents will go through a transfer process if there's space left in the in-person classes.
In-Person Learning at Morey:
Cohorts: To minimize the risk of students interacting with others, all in-person students will be placed in a learning cohort. Depending on how many students opt into in-person will dictate the size of the in-person cohort. It could be 15 students to 30 students in a classroom. 
One Classroom: The students will stay in one classroom all day to minimize exposure to other students. Content teachers will travel to different cohorts so the students will receive live, in-person instruction from content experts. We just learned that teachers can only see 2-3 sets of students per day. Due to this health requirement, we will have to determine which 2-3 teachers will lead live instruction each day. We will communicate the new thinking in the coming weeks. Health guidelines dictate that lunch is in the classroom. We will try to provide 1 – 2 recess breaks outside for kids each day. Our electives will be on a quarterly basis. Students will still receive all four electives in the course of the school year.
Sample Schedule:
6 – 1 Cohort – Room 103

Period 1

Ms. Clark

Advisory

Period 2

Ms. Clark

Language Arts

Recess

Ms. Clark

Recess Break Outside

Period 3

Mr. Ahern

Math

Period 4

Mr. Ahern

Lunch

Period 5

Mr. Ball

STEM

Recess

Mr. Ball

Recess Break Outside

Period 6

Mr. Ball

Virtual Science lesson led by Ms. Trujillo
Virtual Instruction: 
Key Principles:
Instruction will occur digitally through synchronous (live) and interactive instruction which will include scheduled classes at specific times on a daily basis. 

There will be a live lesson for each class period, each day between 9 – 11 am and 12 – 2pm. 

A virtual lesson has 30 minutes of "instruction" and 30 minutes of "critical practice". The critical practice is a time where teachers give students feedback, push deeper thinking, answer student questions, etc. Critical practice replaces our old language from last year called "office hours." 

If students are unable to attend the live lessons, they are recorded and posted each day to the Summit Learning Platform. Students can access those lessons after the live lesson is posted.

Students will be assigned work for each class period. This work is due during the class period, or is assigned for completion during independent practice.

Students may get an additional hour of virtual instruction for intervention if deemed necessary. 
Sample Virtual Schedule: 
Class

Critical Practice

Period 1 

(Language Arts)

9:00-9:30

9:30-10:00

BREAK 

10 MINUTES

Period 2 (Drama)

10:15-10:45

10:45-11:15

LUNCH

45 MINUTES

Period 3 (Science)

12:00-12:30

12:30-1:00

BREAK 

10 MINUTES

Period 4 (Math)

1:10-1:40

1:40-2:10

Intervention 

(for those assigned)

2:10 – 3:00
Important Transportation Changes: 
No buses for Morey: With the health guidelines, buses can only transfer 33% of its capacity. So DPS can only transport 33% of its students to school and back home each day. This week DPS will announce that secondary schools will not receive transportation, unless they are a newcomer center or a TNLI school. Only students in Ms. Klebba's center classroom will be given busing at Morey. This has a huge impact on Morey families, as many students come from all of the city to our school and rely on the yellow school bus. I have spoken to many people and advocated that our magnet students should qualify for an exception, but there just isn't enough buses and my requests were denied.
Carpools & RTD: Mr. Lunger is trying to coordinate carpools for our families wanting to attend in-person who cannot get the yellow school bus this year. We'll send out more information with carpool applications and sites. DPS is also partnering with RTD to get passes for secondary students to utilize city transportation.
School Day Time Changes: 
Bell Schedule: As of now, the Morey day for in-person learning is 7:40 am to 2:58 pm. With teachers teaching classes throughout the day and covering lunches in their classrooms, we have asked to either have a late start or early release to allow teachers 45 minutes of planning time. Elementary schools are shortening their day to give teachers planning time, and we will hear if our request is granted and what our official hours will be in mid-August.
First Day of School: DPS pushed back the first day of school by a week, so all students (regardless of starting virtual or opting into in-person) will begin August 24th.  
Health Guardrails:
To maximize safety of our students, there are number of health systems that will be implemented for in-person learners:
All adults and students will get a temperature and symptoms check when arriving at the building. Students/staff with a temperature of 100.4 or above will need to be picked up from school.

All adults and students are required to wear masks or face shields when on school grounds, with the exception of time for eating or other designated "mask break" that would take place outside. 

Student movement will be limited in the building. Students will remain with their cohort groups throughout the day and will not transition between classrooms. 

Students will be required to wash hands twice daily and the building will be sanitized by our facilities staff nightly. 

Students will not have access to lockers for the 2020-21 school year. 

Lunch and breakfast will continue to be served for all students, however food will be consumed in classrooms or outside to prevent mixing of cohorts. 

If a student or staff tests positive, the cohort will move to remote for 14 days. If a student or staff has been in close and/or prolonged contact with someone who has tested positive, the cohort will move to remote for a minimum of 3 days to allow for additional disinfecting and monitoring. Staff and students that are sick will not be permitted to return to school until they are healthy.

 

Air conditioning will be on in the building, however the use of portable fans and swamp coolers is prohibited to inhibit the spread of the virus. 
Timely Registration is Critical: 
Registration for families begins July 27th and goes through August 7th. At this point you will make the decision to go 100% virtual or hybrid/in-person for Morey. Online registration is strongly encouraged to ensure the health and safety of Morey community members. 
Online Registration Process:
Beginning July 27, families will make a final selection and enroll in either in-person learning or a virtual program as part of our school's registration process. The fastest, most convenient way to officially enroll is through Annual Family Update*, the online registration process. For more information on Annual Family Update, visit schoolchoice.dpsk12.org, or contact our front desk directly at 720-424-0700.
If you need a step-by-step guide for how to register, see this Family Navigation Guide document. 
*Note: If you already took part in Annual Family Update, that means you have not yet officially enrolled in one of the two options for the fall semester. To do so, you will need to fill out a registration addendum form, available through our school, or by contacting Enrollment Services at 720-423-3493.
If you cannot register your child online, please email Katie Mohr as soon as possible at katie_mohr@dpsk12.org or call 720-424-0707 to receive a paper packet by mail or set up an appointment to walk-in register. 
We will create student groupings for in-person and virtual classes once all students have officially registered. 
HGT Learning in Remote:
Students will be assigned to a cohort of HGT learners/peers. HGT cohorts will use math placement suggestions from their 2019-2020 math teacher to determine cohorts. If you would like to know specifics about this placement, please contact Morey's HGT Coordinator, Bertie Fiz at

Bertie_Fiz@dpsk12.org

.

HGT cohort classes will be accelerated as in a normal year. Proper pacing and lesson development will align with the needs of the particular students in the class. Bertie will work with teachers in these classrooms to ensure that teachers know each student's academic strengths, interests and social/emotional needs. 

ALP goals will be created through student facing lessons and via collaborative parent conversations. You can look forward to a call or virtual meeting with Bertie towards the beginning of the school year to ensure quality collaboration with Morey.

Should the student have learning challenges, our special education and support staff will work with your child as needed.

Depending on a child's specific social or emotional growth areas, students may receive additional support through meeting with Bertie.
After-School Clubs and Care:
Once hybrid/in-person instruction resumes, we are allowed to have students engage in limited after-school activities. 
Sports: It has not yet been communicated if Fall sports are offered this year. We are anticipating that if they are allowed, and if a student opts into virtual learning, students can still participate in Morey sports.
Study Buddies: The after school club, Study Buddies, will run until 5:30pm Monday through Friday for our hybrid/in-person learners. Students will remain in groups of no more than 15 students and 1 teacher. Students and staff participating in this programming are required to follow the district health guidelines for COVID-19. Program enrollment cannot exceed 45 students and will operate under a first come, first serve basis. The program's monthly cost is $75. 
History Colorado: History Colorado will connect virtually with students until we are able to resume hybrid/in-person learning. The programming is capped at a roster of 15 students and is required to follow the district health guidelines for COVID-19. The program will cost $30 per semester. Families who qualify for Free and Reduced lunch will receive a 50% discount. Students who are History Colorado members will receive $5 off each semester's membership fee. History Colorado will meet virtually with students until we resume in-person learning.
Other Clubs & Activities: Alliance Française, Spanish Club, Science Matters, Colorado Honors Band will continue through a virtual platform this Fall. These clubs come with fees set by the vendor. 
There will be more updates on Demolay and Gardening Club at the beginning of the school year. 
Homeless Encampment on Morey Grounds: 
We hear the city has made progress on identifying multiple sanctuary sites in the city to move the unhoused residents surrounding the school. City officials said the Morey campers will be the first to relocate. They have said camps should be moved by August 1st. 
Food Service and Distribution: 
Denver Public Schools continue to offer free weekday breakfast and lunch to students and families in need at Grab-and-Go sites throughout the city until circumstances change. DPS is not able to provide transportation to the Grab-and-Go sites. For more information go to https://www.dpsk12.org/coronavirus/food-distribution/
Technology Return: 
If your device is broken or unused, please return it via mail free of charge at this link. Once we receive your returned device, we will contact you about a replacement device. Returning devices will minimize replacement costs and support other students who need access to technology. For questions about this process, please call 720-423-3163.
Hillary Niebauer
Principal
Morey Middle School
720-424-0713
hillary_niebauer@dpsk12.org